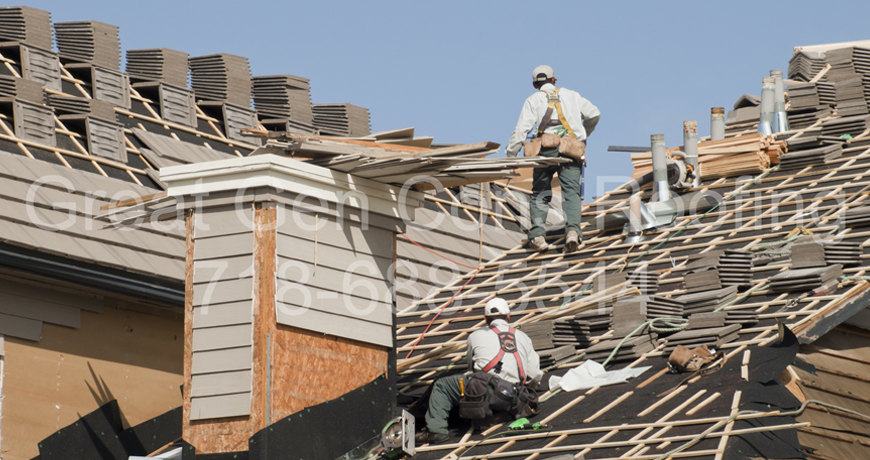 Roof System-an Introduction
A roof system incorporates a number of components, properly brought together in order to provide the appropriate shelter for a building. These involve structural elements, moisture barricades, and feasibly insulation or ventilation.
The primary design of a roof system includes features which specifically suit the weather conditions in the area where it is being installed. For instance, a moderate-slope, hip roof withstands hurricane while a roofline with a higher pitch and gable ends will serve the best where snow is a dominant climate feature. The secondary design comes with limiting complexity in the roof system. Buildings installed with simple roof systems commonly have less repair or replacement costs. Complexity can be added in the roof system with the help of dormers, skylights, plumbing penetrations, or ventilation penetrations. A building's structural roof elements, including trusses or rafters, defend it from damage caused by extreme weather conditions. As far as the roof is properly maintained and protected, it would ensure its effectiveness. What you might have brushed off as a minor oversight or damage, could make you suffer a big loss affecting the longevity of your roof system.
Maintenance, Repair and Re-roofing
Well, maintenance, repair and re-roofing are commonly referred to like one thing. But in reality, these three terms have different explanations. Let's get into how each term differs from the other.
Before any actual failure in the roof system, the treatment given to the roof comes under the maintenance. It may also include the fixing minor defects like resurfacing bare spots or treatment of entire roof like recoating the surface. We can never neglect the importance of roof maintenance as it ensures the longevity of the roof. With good maintenance, the average cost per year for roofing gets reduced to a minimum. Each roof type comes with distinct maintenance requirement. Make sure to hire a proficient roof maintenance team in order to get the best results.
On the flip side, when a roof follows a partial failure due to certain circumstances, at that time, the treatment given to the roof is defined as roof repairs. There can be minor repairs e.g. a broken slate or tile replacement or major involving additional layers to be applied, all depending upon the damaged surface of the roof. Minor damages can be fixed by any roofing team, while for major repairs, you need to get help from a professional roofing contractor.
After a certain time span, the roof needs to get replaced as a whole. This process is what we called as reroofing. The main objective behind this information is to help you out in determining which type of treatment your roof actually needs.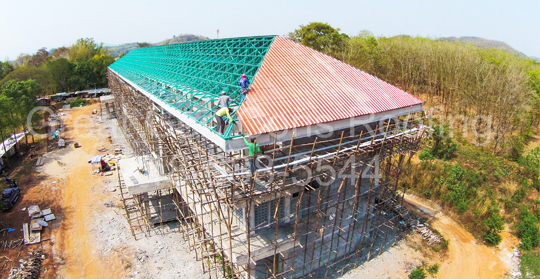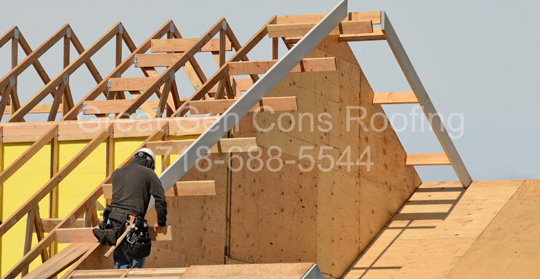 Types of Roof available for you
Gable Roof
Gable roofs, also known as pitched or peaked roofs, are the most common roofs and can easily be identified by their triangle shape. Due to sharp slope, water and snow easily shed, providing space for vaulted ceiling, eventually, allowing more ventilation. Due to their simple design, they are easier to build and cheaper than other types of roofs.
Gabled roofs can be concealed with almost any type of material including, cedar shakes, asphalt shingles, metal, and clay or concrete tiles. However, if the gable roof also encloses a dormer, hips and valleys, it ought to be shingled or roofed with metal shingles to avoid any future roof leaks. If a gable roof is used in place prone to high wind, make sure proper braces are installed and get the roof inspected after any natural disaster like storm in order to ensure no damage occurred.
It is a fact that gable roofs do not fit in high wind and hurricane-prone areas. If the frames of gable roofs are not suitably built with ample supports, there could be roof failure due to strong winds. Stormy winds also make the materials to peel away from gable roofs or in worst case detaches the roof from the walls.
Gable roofs have various types including side, crossed and front gable. A side gable is basically pitched roof having two equal sides at an angle. These both sides meet at the ridge in the middle of the house. For an open gable roof, the triangle section is left open while for a boxed gable roof, it is enclosed.
When two gable sections put together at the right angle, it is known as a crossed gable roof. The two ridges are vertical to each other and their pitches, lengths and width may not differ from one another. It's an ideal design for Cape Cod, Tudor houses and for those building with separate wings.
In most of the colonial style houses, a front gable roof is placed at the entrance side. While in order to make building more spacious a Dutch gable is placed at the top of the hip roof which is also known as the hybrid of hip and gable roof.
Hip Roof
It is a type of roof in which there are slopes on all four sides with equal length and form ridge at the top. The hip roofs are far stable in contrast to gable roof due to the inward slope of all four sides. The slope of the hip roofs does not allow snow and water to stand rather quickly slide off which make it perfect for both high wind and snowy places. For extra living space, add a dormer crow's nest with the hip roof.
But hip roofs are very costly as compared to a gable roof. Because of its complex design, it requires more material in its construction.
As far as types of hip roof are concerned, it includes simple hip, half and cross hipped. The type of hip roof which has polygon on two sides and a triangle on the rest two sides making a simple ridge at the top is called a simple hip roof. While the cross hipped roof is similar to cross gable roof that accumulates separate hip roofs on buildings with different wings. The point or line where the two roofs meet is known as a valley. In a hip roof, when two sides are shortened to create eaves, it comes in the category of half-hipped roof.
Flat Roofs
As a matter of fact, Flat roofs are not really flat. These roofs have a slant of almost 0.25 to 0.50 inch per foot allowing water to drain out quickly. Due to very normal slope, flat roofs hold snow as well as water longer as compared to steeply pitched roofs. That being the case, it is highly recommended to use appropriate material to keep it watertight. Generally, flat roofs incorporate shingles which work as fish scale to slide water and snow quickly.
Different types of Flat Roofs in Bronx, Yonkers and Westchester County NY
Being economical, flat roofs are quite popular among residential and commercial buildings. These roofs also provide space to install air conditioning units or solar panels. It can also be used as living space. Before hiring skilled flat roof contractors, you are required to figure out which type of flat roof will best serve your need.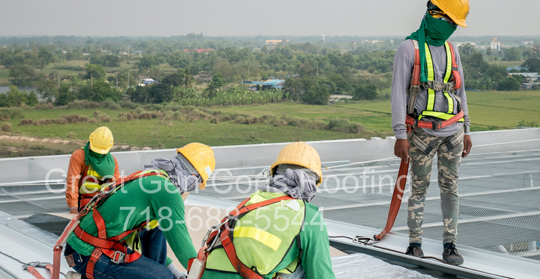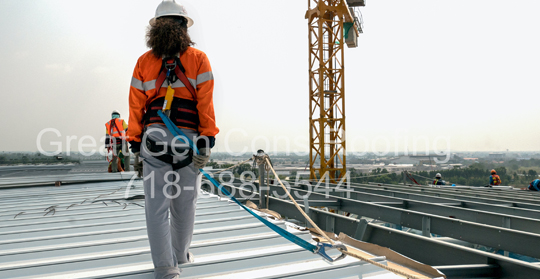 Here, we are going to delve into various types of flat roofs. This piece of information will assist you in making a wise decision for your home or business.
Built-Up Roof (BUR)
Built-up roofs are constructed by applying two or more layers of waterproof ply sheets packed in between layers of hot tar. Then, these layers are balanced by a layer of gravel or river stone to make the roof robust and durable. Built-up roofs is a pocket-friendly decision and if installed by professionals, it can last very long. In commercial buildings where there are greater chances of breaking out fire, built-up roofs would prove to be great fire-resistant due to the use of gravel in them.
On the flip side, the use of gravel or Smooth River stone increases the weight of the roof putting extra stress on the structure of the building. Moreover, after its life span, built-up roofs are much difficult to replace and the reroofing cost could empty your pocket.
PVC Roofing
PVC membrane is made up of scrim (continuous filament lattice) which is coated with PVC thermoplastic and UV resistant. For many reasons, PVC membranes are effective roofing material and a modernized roof. By nature, PVC is fireproof and this is the reason it comes at the top of highly flame resistance roofing. PVC roofing is super-flexible and can easily be tailored to accommodate rooftop alterations. These membranes are prefabricated to integrate each type of building. Due to their lighter weight, PVC membranes do not put stress on the building. After the specific life period, when there is a dire need to replace roof, PVC membranes save a lot of money as these roofs are super-easy to remove.
PVC roofs are weld-able which forms sturdy and reliable joints. This reduces the leak's potential and possibility of dampness preventing mold to grow. Some PVC roofs accumulate two-way venting, which prevents moisture to get trapped into the roof or building. These roof types are specifically designed to be highly reflective which results in keeping buildings cooler, reducing energy need and assisting alleviate urban heat island effects. Not only fireproof but PVC is highly resistant to a number of chemicals. PVC roofs offer you endurance in extreme weather conditions. In-depth research has proved that many PVC roofs are still stout even after 25 years of life. It is obvious that longer life span results in fewer replacements over the building's life. Normally, a building stays healthy for a century which means replacement of seven to ten non-PVC roof systems but merely four to five PVC roofs-no ifs ands or buts about it.
One of the biggest advantages of PVC roofing system is that PVC can easily be recycled. That's why during PVC roof construction nothing is wasted because fabrication scrap is reassembled to use in building components. Even at the end of their life period, PVC membranes can be recycled, unlike other roofing systems.
Modified Bitumen
Modified Bitumen is constructed using a single layer of adhesive material which make it convenient for DIY installations. In past, Bitumen type of roof was installed using torch but now-a-days many self-adhering choices are available for you. These roofing systems are lighter in color, reflecting infrared radiations of the sun and lessens heating, ventilation and air conditioning costs.
Using torch-down systems for modified bitumen, the risk of roof catching fire increases. Therefore, it is highly recommended not to install torch-down modified bitumen roofing system in covered buildings. Unlike other flat roofing systems, it does not withstand robust against foot traffic and blown debris. It's common in modified bitumen to have tears or scuffs.
Rubber Membrane
Ethylene Propylene Diene Terpolymer (EPDM) or Rubber membrane has been a very famous roofing material for a long time. This type of roofing system involves a number of benefits including fewer chances of damage and low-cost repair. On contrary to BUR, Modified Bitumen and other older flat roof types, rubber roofing system is more advanced and durable but least sturdy to punctures than modern PVC membranes.
Like PVC, the EPDM membranes can also be recycled after spending their useful life. This type of roofing system is dark-colored by nature and therefore, absorb more heat increasing the overall temperature of the building. In order to minimize heat, light colored roof coating is required with rubber membranes but it can increase the total cost of the roof, that's really painstaking.
Thermoplastic Polyolefin (TPO) Roofing
TPO roofing system incorporates many pros of PVC roofing material. Generally, TPO has white color and is fabricated from ethyl propylene and polypropylene rubbers. Due to its white color, the sunlight is reflected and very less energy is absorbed resulting in keeping building cooler and saving high electricity bills.
Thermoplastic Polyolefin (TPO) Roofing system is very easy to install can be adhered fully or attached to the roof deck mechanically. Due to its highly flexible nature, it is perfect when there are anomalous shapes and objects on the roof. It can easily be welded if get damaged without paying a lot of cost and losing durability. Like PVC membranes, the TPO membranes are also fully recyclable.
Metal Roofing
When it comes to talk about metal roofing, the very first thing that comes in our mind is longevity and strength. Usually, steel and aluminium are used as roof materials for metal roofing. This roof type covers the top of the list among best-selling roofing systems. When properly installed, metal roofing offers a way long life span in contrast to other roofing types. Metal being excellent conductor of electricity, is ideal for northern areas where winters last longer. These roof systems are also perfect for the areas prone to heavy wind, rainfall and snow, as in such circumstances the roof panels get locked and prevent water and snow to penetrating into the building.
Be that as it may, metal roofing systems are not suitable to be used for entirely flat roofs. Typically, metal roofs are feasible to apply for sloped roofs. One might take its high cost and noise as a major issue, but the durability and longevity of metal roofs overweigh all the red lights.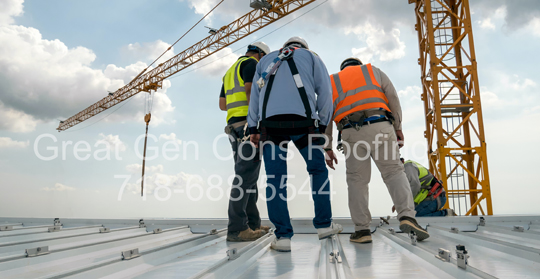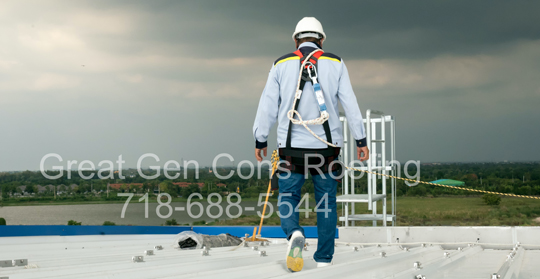 Coating
A coating roof is made up of a topnotch resin-type elastic liquid that, once dry, provides longer waterproofing and protection against wind and somatic damage from falling debris, depending upon the thickness level. It ranges from 3 mils light coating to 50 mils excess thickness coating. If you are hunting for a durable technique to save energy and money, coating is the only answer. Silicone Roof Coatings offer fungus tint and mold resistance, and will not blow or spoiled under the sun. Acrylic roof coatings are highly insightful but need to be applied at 50 degrees Fahrenheit or above.
Roof coatings are available in a variety of color choices, many of which offer tremendous sunlight reflection and assists in reducing your carbon footprint and making it environment-friendly. Before making a final decision, it is advised to consult with a reputable flat roofing contractor for any further query. In order to install a roof that can serve your purpose in the best way, it's important that you have all the information regarding roof types and problems.
Common Roofing Covering Options
Other than the aforementioned coating and coverings, there are some other options also available to protect your roof. These options include:
Being pocket-friendly, super easy to install and maintain, asphalt roofing is the most common type of roof covering around Bronx, Yonkers and Westchester County NY. This form of covering withstand heavy rainfall, extreme hotness and other atmospheric changes. There are different qualities of asphalt roof covering available in market. Go for the one which best suits your roof and pocket-size.
This roof covering type is one of the ancient forms, originally brought to the US during the 17th Century by British colonists. Clay tile covering has remained an architectural and artistic staple in many areas around Bronx, Yonkers and Westchester County NY. Nowadays, a number of combinations can be seen in case of clay tile roofing.
Spray Polyurethane Foam (SPF), commonly known as Spray Foam Covering is a very lightweight flat roof covering option. It is basically a liquid plastic sprayed over top of the roofing substrate, which foams and inflates to cover your flat roof without a glitch.
Wood shingle or shake roofing have been a very common roof covering in the United States. They fell out of favor because of fire concerns, and the arrival of asphalt shingles. Modern day wood shingles are canned with fire retardant, and are making a retaliation due to their stunning look, robustness and high-wind resistance.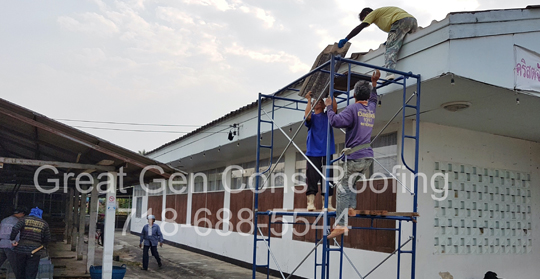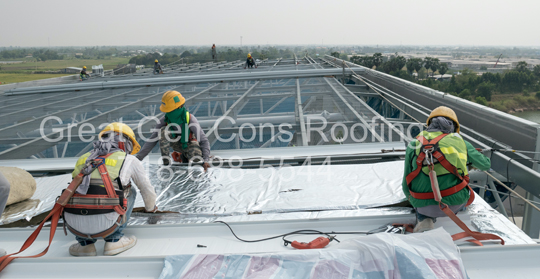 Roof Flashing
Roof flashing is a thin substance, generally spurred steel that skilled roofers use to direct water away from perilous areas of the roof, where the roof plane come across a perpendicular surface like a fence or a dormer. Flashing is set up to frame roof features, such as exhausts, chimneys and windows. Water must run down the side of the flashing and be directed to the shingles rather than finding its way into the roof deck.
Roof flashing is of various types depending upon the shape of the roof. Here are some types explained to understand:
Apron flashing: Apron or Continuous flashing is a long, single piece of metal that transmits water down to the shingles. Long pieces of continuous flashing fell prey to trouble arching as the roof of building undergoes expansion and contraction when season changes. That being the case, the long pieces of apron flashing come with built-in expansion joints so they can endure weather changes.
Base flashing: Some roof features, such as chimneys have need of two pieces of flashing. This makes certain that rain always bumps into a flashing surface that directs it downwards. And more, it is extremely hard to install flashing around a chimney. Another plus point of two-part flashing is that when the roof materials naturally expand and contract with atmospheric changes, the two pieces can move, so the whole system stays safe and sound.
Step flashing: Step flashing is a four-sided piece of flashing bent vertically in the center. It is designed for roof to wall flashing. Several pieces of the flashing are installed in layers with shingles to make sure the water flows away from the wall.
Techniques for Roof Flashing
Before heading towards the installation process of roof flashing, it is very important to learn about certain primary techniques, each one apt for distinctive areas on the roof.
Step flashing is served best where the roof face run into a wall, for instance, where a dormer projects out of the roof. In this spot, it's likely that water might flow down the wall and slip past the shingles into the building below. Step flashing makes certain that water is directed away from the wall and goes straight in the gutter. It sets up in various steps, with layers of shingles between so that the water dispenses down each step and down the roof.
Counter-flashing commonly consists of two pieces of flashing specifically used for chimneys. The first, base flashing, take a pew around the end of the chimney. The second piece, the counter-flashing, is rooted in the stonework of the chimney. It assembles over the base flashing to ensure water may not slip behind the base flashing. Construction experts use counter-flashing for many other purposes, but it always involves a second piece of flashing heads out from the first.
Roof Flashing Installation
Remember, roof flashing must be installed by skilled roofers, who are adept in their work. You also need to consider the safety requirements, laws and building codes of that area.
Step flashing is the most laborious of all flashing works on the roof for the reason that you must complete it step-by-step as you shingle up the roof. There are hardly any general practices you need to be familiar with. First, step flashing must be installed before the siding, so that the siding may shelter the top of the flashing. If this is repair work, the siding must also be detached and substituted with the flashing. Second, step flashing prerequisites to extend 9 to 15 inches above the shingles.
Green roofs
At times stated to as vegetated roofs or eco-roofs, mainly comprise of a waterproofing membrane, soil and plants (vegetation) spread over the surface a traditional roof. Architects and designers can use green roofs to help resolve environmental problems by bringing nature back to the towns in significant ways. Green roofs suitably planned, built and retained, are of assistance socially, ecologically and financially. They are a vital tool to enhance sustainability and biodiversity and lessen energy consumption, urban heat island impacts and greenhouse gas production.
Green Roof Types
A normal green roof comes with a waterproof barrier to defend the building, a drainage coat to hoard and direct overflow, soil or growth medium layer, and a plant or vegetation layer. Mainly Green roofs are of two types:
Extensive Roofs
Intensive Roofs
Extensive roofs are quite economical and super easy to install. They are specifically used for environmental advantages. While intensive roofs are pricier than extensive roof and require a heavy budget to get installed. These roofs allow a greater variety of vegetation of plants and even small trees. Their maintenance also comes with high cost mainly due to the need of irrigation. Commercial and community buildings are most likely to use extensive roofs unless the roofs are proposed mainly as occupied orchard facility space. Extensive roofs have a tinny soil level and feature flowering plants like sedums that can withstand severe conditions. Extensive roofs have need of little maintenance once they are accurately installed, and are normally cost-effective, chiefly in buildings with long life spans.
Intensive roofs take a thicker soil layer and must be considered a landscape with plants found in gardens and Country Park. These plants demand irrigation during dry times. On account of their thicker soil, intensive roofs need greater structural support than extensive ones. Be that as it may, intensive roofs also have greater environmental benefits and amenity use in contrast to extensive roofs.
Green Roof Pros
The ecological profits of installing green roofs on commercial and communal buildings involve:
Enlarged habitat endorsing biodiversity
Headway water quality due to reduced storm water overflow and fewer runoffs of joint sanitary and storm water manure systems.
Enhanced sound absorption in the upper floors of buildings
Lessened energy consumption in some climates
Enriched air quality
Cause temperature to fall building roofs and the air above them in most climates
Challenges to Green Roof Construction
The main strategy, setting up and managing challenges of green roofs include
Making certain the building can sustain a green roof
Worth installation and leak prevention
Maintenance necessities
Potential plant loss due to environmental changes or negligence, among other items Designers can take full advantage of the green roofs by accurately picking plants, growth medium, drainage layers and other features tailored to the local climate and the building's ambiances.
Causes of Roof Failures
Lack of Maintenance
Failure to identify and fix petty faults and deterioration in its primary stages are most likely the ultimate causes of premature roof failures. Since proper and on-time maintenance ensures longevity of the roof, yet a little ignorance will make you face a big problem. That being the case, you need to inspect the roof after regular intervals and get it checked by some experts.
Normal Weathering
Basically, a roof provides you shelter against weather changes, but get itself prone to rainfall, strong wind and snow. The quality of material used and the conditions of exposure determine the rate of deterioration. For instance, you can observe some buildings where slate roofs are installed a century ago. A report has informed that in Bronx, the oldest copper roof has lasted for more than 200 years and tin roofs lived more than 90 years. Whoa!
On the flip side, when there is poor quality material used, the slate roof can even fail in 10 years or less. When proper space for expansion and contraction is not given in case of Copper, the roofs may fail in less than a year, despite the copper has not fell prey to deterioration. In case of tin roofs, if proper painting of the roof is ignored, roofs got rust and eventually deteriorate.
Aforementioned are few examples from many which cause roofs to fail. Usually, inorganic roofing materials apt to deteriorate less quickly on exposure than the organic ones. Metal roofs which are subject to rapid oxidation must be protected.
Use of unseasoned lumber
The use of unseasoned lumber for roof framing and roof decks is a common ground of early roof failure. Movement in the roof deck can cause cracking of rigid roofing materials like slate, tile and asbestos-cement shingles, and unsightly buckles in Roll roofing, asphalt shingles and built-up roofs.
Storage
Roofing materials, yet anticipated for direct exposure to the weather, may get damaged if exposed before application. Therefore, roofing materials are required to be stored under cover at all times. In the same way, improper storage in which the materials are in direct contact with the ground or in stacks that are too high, will surely damage the roofing material.
Improper application of roofing materials
Expertise in applying roofing materials is equally important as the choice of the proper materials. Low-quality materials applied well can provide good service as long as the materials fight the weather changes, but a roof with high-quality material inadequately applied, will give poor service even from the beginning.
Some of the most common application faults are;
Built-up roofs
When a layer of building paper over wood decks or other decks with open joints is not applied.
Not properly covering knot holes and cracks in wood decks with metal.
Installing built-up roofs in cold or wet weather.
Improper nailing of felts in built-up roofs, causing in the blowing-off and slipping of felts on steeper slopes.
Insufficient mopping of hot bitumen between the plies of felt
Mopping instead of pouncing of hot bitumen in the construction of slag or gravel surfaced roofs.
Excessive application of asphalt on the weathered surface of smooth-surfaced built-up roofs.
Failure to broom felts smoothly behind the mop, ensuing in poor adhesion, wrinkles and buckles.
Asphalt Roll Roofing
Failure to cement the seams of roll roofing or to use the improper kind of cement.
Installing roll roofing with exposed nails.
Nailing roll roofing adjacent to the brink of the sheet
Roll roofing when not cut into short lengths approximately 12 to 18 feet and failure to permit it to lie flat to lose the roll.
Fail to cover viscous knots, knot-holes, or extensive cracks in the roof deck with sheet metal.
Not using metal drip edge at eaves and rake.
Asphalt Shingle Roofs
Nailing asphalt shingles going beyond normal limit.
Leaving the tabs of asphalt shingles without cementing with fast-drying cement in windy areas.
Failure to use metal drip edge at attics and rake.
Metal Roofs
Inadequate side and end laps provision with ridged sheet roofing.
Neglecting paint in case of tin roofing.
Not providing enough space for proper contraction and expansion with changes in temperature.
Improper fastening sheets.
In case of Rigid Roofing Materials such as Slate Asbestos-Cement Tile, nailing very tightly and using inadequate nails can cause roof failure.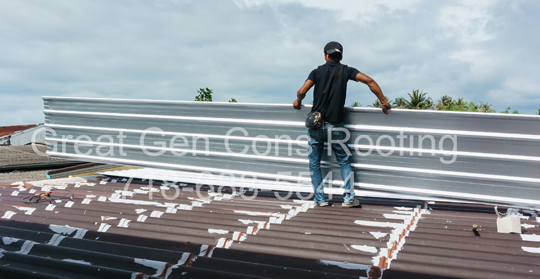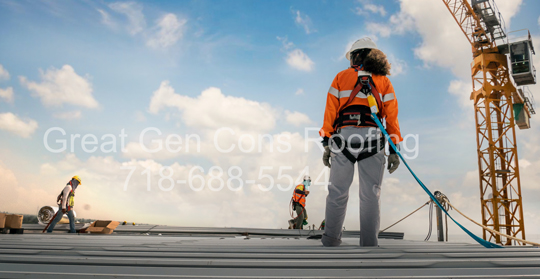 Use of Improper Materials
Almost all roofing materials best fit in a particular type of service and some are certainly incompatible to some conditions. Beyond the shadow of a doubt, shingle-type materials work best for the steeper slopes and that the lower-pitched roofs have need of roofing that will provide a continuous sheet over the whole area.
Shingle-type roofs (asphalt, asbestos-cement, and slate) can be used safely on slopes of five inches or more per foot. On slopes lower than five inches, special safety measures must be taken.
Asphalt roll roofing, plus wide-selvage roofing, can be used on slopes of two inches or more per foot. They must not be used on flatter slopes, not because it is impossible to build a leak-proof roof with them, but because of the fact that they do not resist weathering thoroughly where the roof drainage is meagre.
Built-up roofs get best fitted to roof decks that range from flat to two inches per foot, still they can be used on steeper slopes.
Metal roofs in sheet form and ridged asbestos-cement roofs ought not to be used on slopes lower than three inches per foot. These consist of special forms of galvanized and aluminium sheets, sheltered metal sheets and all board and standing seam metal roofing. Soldered seam metal roofs such as that of copper can be used on flat or nearly flat decks.
Wind Damage
All roofing types have to experience damage from strong winds. Roofs, generally, are not intended to endure winds of hurricane intensity. Be that as it may, the greatest damage to roofs is not from storms but, rather, from winds of moderate intensity and the breezes that may reach 70 to 77 miles per hour that go along with them.
Asphalt roofing, especially free-tab asphalt shingles, inappropriately applied are most likely prone to wind damage. Constant moving of these shingles deteriorates them and after a number of gusts the shingle tab is fallen out. The same is true if these shingles are nailed properly, but the free tabs are not cemented down and many cases are seen where only the exposed tab of a shingle is blown loose. Conventional 210-pound shingles nailed correctly, but not cemented down, have been shown to resist less than 100 gusts in a simulated test. In a similar test with the shingle tabs cemented down, they withstand more than 2000 gusts.
Other common causes of wind damage to roofs include, the partial vacuum caused by wind blowing vertically over the ridge of a roof and causing the roll roofing to jerk at its buckles. This same effect is clear when wind blows against the side of a building with a flat roof and is one of the key reasons for the ample fastening of built-up roofing felts. In the case of built-up roofs it is the persistent pull from quite mild winds that loosen the nails and make the roof prone to the first strong wind to which it is imperiled.
Uncovered Nails
The tendency of exposed nails to get loose has probably triggered most concern with asphalt roll roofing since a large part of these roofing systems are applied with the nails exposed. Though, exposed nails are always a possible source of trouble with roofing of any type. Nails used to keep hold of curled wood -shingles always get loose as do nails in the battens used to repel water entering into buildings.
Failure of Flashings
Flashings are designed to provide at least as long service as the roofing. But many early roof failures are, in fact, flashing failures. This is right on the whole for flat or nearly flat decks. Various cases have been witnessed where reroofing has been requested when repair of the flashings or provision for new flashings was all that was required to make the roof leak-proof
When it is considered that the function of flashings is to provide a waterproof junction between the roof and other parts of the structure and between roof sections, their significance, and the significance of maintaining them appropriately cannot be over-emphasized.