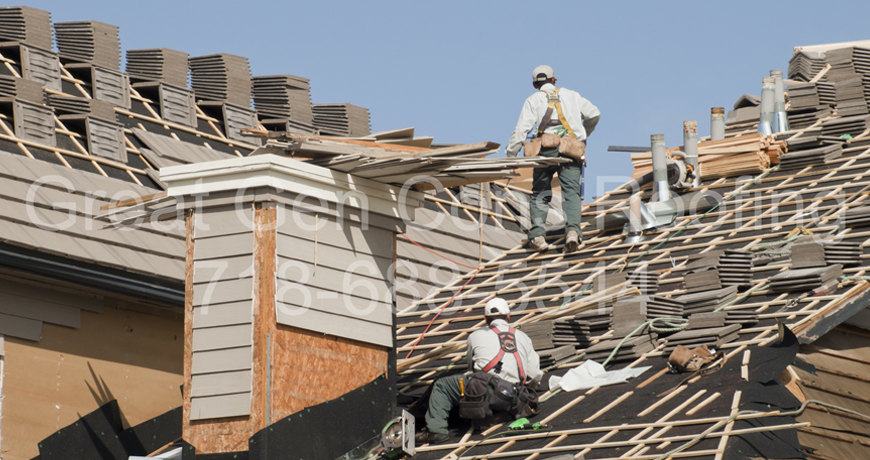 If you are looking for a roofing contractor in Yonkers, you are at the right place. No matter what the roofing job is, we probably have the most experience in it. Whether it's a new roof (of any type or style) or a roof repairs, you wouldn't find a better roofing company in Yonkers. Getting a new roof or replacing the old roof can be an overwhelming task and require one's complete attention. Putting a roof up might sound monotonous but it's a costly investment that require attention to details about its practical and aesthetic implications. Not only it increases the appeal of your home but also can save you from all the external elements like harsh weathers and storms.
It is of utmost importance that while spending your hard-earned money on this once in a lifetime investment, you are aware of every little detail and pit fall so you can make an informed decision. There are layers of roofing such as roof deck underlayer which is important to shield you against harsh conditions and then roofing itself can be done in many ways and every material has different lifespans.
Considerations Before You Choose the Roof in Yonkers
It is always a wise move to plan ahead before you commit to such huge investment. There are many factors to consider some of which are as follows. Let the architectural style of your building dictate the type of roofing you require. Make sure that you do a complete survey about weather you need brand new structure of just a new layering. Keep in mind that the climate of the area plays a big role in choosing the type of roofing you require if snow is a dominant climate feature then roofline with higher pitch and gable ends would be the best choice. Make sure you are abiding the state and city building codes and requirements. Try not to stand out from your surroundings as the best practice is to blend in. everyone has different requirements and you make sure that roof that you are installing is according to your needs and has enough functionality. Your decision about the underlayment is extremely important as not only this would save you from elements but also increase the energy efficiency.
Types of Roofing Suitable in Yonkers
Located along the Hudson River, Yonkers is New York's fourth largest city and the largest city in Westchester County. Yonkers climate can be described as extreme since summers are warm and humid and winters are extremely cold and it rains almost all year round. So, keeping the conditions in mind following are the five most reliable materials that are suitable for such weather.
Asphalt Shingles
Most popular roofing material mainly due to its affordability. Besides being cost effective, they are durable, weather resistant and have great appearance. They are easy to maintain as well.
Cement S Tiles
Made with concrete and cement, these tiles are extremely durable and come in variable sizes and colors. Comparably cheaper and can withstand 120mph wind with no damage.
Metal Roofing
Metal roofing is superbly resistant to snow and ice formation and let it slide off and in hot conditions it reflects the heat and lower the energy consumptions.
Slate Roofing
Environmentally friendly roofing material is an attractive choice for roofing. This material is just exquisite and looks extremely good on the roof. Resistant to wind, storm hail and fire and is recommended material for sloped roofs.
Roofing Contractors Bronx
Roofing Contractors Bronx are experienced and economical roofing contractors who deal with all types of roofing solutions and through their determined and hardworking approach have earned a reputation of the premier roofing company in the region. Specializing in residential and commercial roof installations and repairs, their focus on quality and customer satisfaction is what makes them stand out from the crowed.