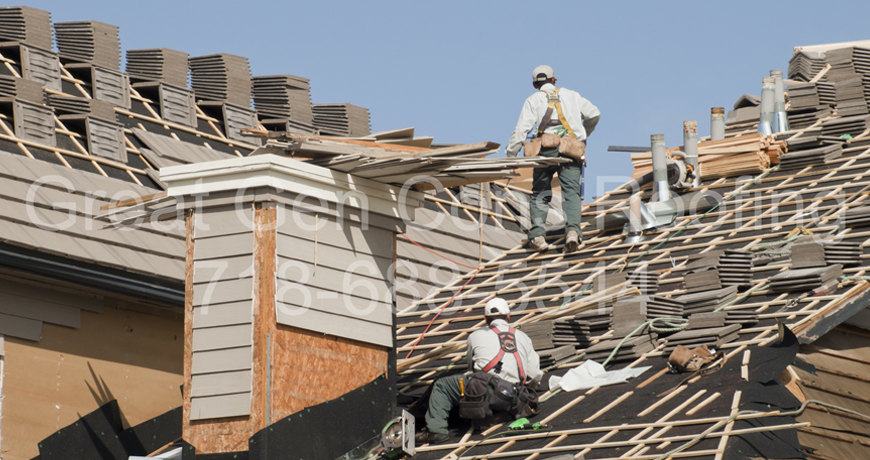 Roof above the building is an extremely important part of the building. It always pays to get the roof repaired in timely fashion. If you are in an unfortunate situation and require the roof repairing then you have reached at the right place. Roofing Contractor Bronx has a decade long experience in roof repairs in and around Yonkers and use updated techniques and tools to get the job done.
Signs That You Need Your Roof Repaired
There are many signs that indicate requirement to repair or replace the roof. A yearly inspection is always a good idea to keep an eye on the state of your roof. If you see that shingles are curled, cracked or absent or if the are dark, dirty or wet than it might be a good idea to replace the shingles on the roof. If you see wear and tear around roof objects and openings or blistering on the exterior paint, get your roof checked by experts.
A big sign is usually when you see staining on the interior ceilings or walls. Leaks or sagging places or presence of outside light that you can notice from inside are also worrying signs. Higher energy bills are bad omen too.
Reliable Roof Repairers
Once you notice those signs, its time that you start finding a reliable roof repairing contractor. Roofing Contractor Bronx is the answer to all your troubles as they have immense amount of experience and are known to do quality and long-lasting jobs when required. They evaluate the damage and provide you an honest assessment for the repair. Once agreed, they complete the job at lightning speed and superb accuracy. Call us for a quick evaluation and let us show you how we can make a difference.