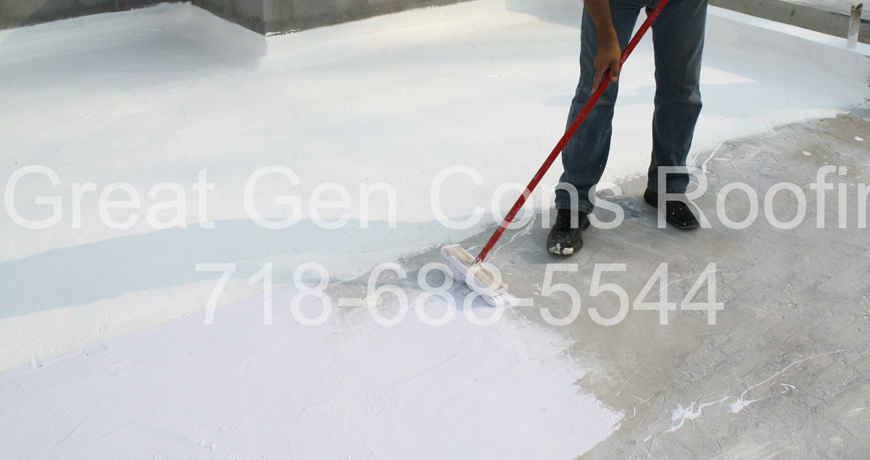 Waterproofing is not a topic of debate today, it definitely got necessary as soon as human beings needed shelter to live in. Thus, waterproofing has remained a need since centuries. Earlier people looked for this protection from natural elements which existed at that time. As years passed, the renovation and advancement brought significant alterations in materials and types of waterproofing. The material and types of waterproofing differ in accordance with the place. Let's delve into the complete detail of waterproofing around Bronx, Yonkers and Westchester County NY.
Basics of Waterproofing
A number of constituents contribute to a waterproofing system, like drainage mixtures which come in the way of water and take it away from the structure, links between façade and base membranes, and watertight sanitation in food service zones.
You cannot brush-off the importance of impervious membranes when these come to talk about vital constituents of waterproofing. Whether it is foundation wall, basement tunnels or fountains, lobbies and kitchens, impervious membranes are crucial for all types of waterproofing.
Building Cladding materials like brick masonry cannot be waterproofed in actual; rather act as weather barriers. Only the use of impervious membranes hinders water entry into the building. You need to understand that there is a clear difference between waterproofing and roofing. Building decks over covered spaces are waterproofed and technically not a roof. The builders will clearly make distinction, due to the fact that waterproofing applications offer far less warranty span in contrast to some roofing systems.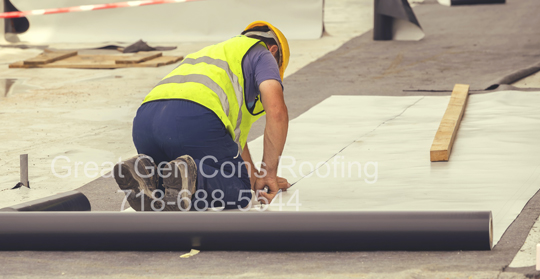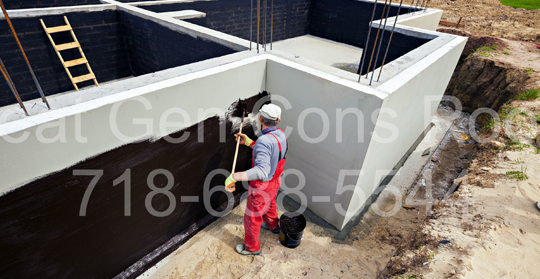 Sides of Waterproofing
Before heading towards the design and materials for waterproofing, it is essential to know where, when and why waterproofing needs to be installed. There are mainly three options including:
Positive-side waterproofing
Negative-side waterproofing
Integral waterproofing
Integral waterproofing accumulates mixtures that are amalgamated into concrete blend during initial discharge. These products are extremely weak and are not matter of discussion here.
Positive waterproofing is used in exterior face or wet base on grade and below grade, and to suspended slabs too. It is primary waterproofing type used nowadays. These applications comprised almost all commercial waterproofing or damp proofing systems. If accurately installed, positive-side waterproofing ensure the protection of interior and structural components i.e. concrete or steel from moisture and water infiltration. Below-grade positive side incorporate fluid applied membranes, hydro clay, vapor barriers and sheet membrane systems.
Positive-side waterproofing hinders water and moisture from entering the substrate surface which is a predominant benefit of this system. The substrate is shielded from freeze-thaw sets and destructive chemicals in the groundwater. But this system cannot be repaired once installed which is its big disadvantage. Once got damaged, you need to remove all topping i.e. landscaping, concrete and dirt etc. which make you pay heavy restoration cost.
Negative side waterproofing is used chiefly for water holding purposes as in dry or inside face of the subsurface. This waterproofing system does not allow water from entering into covered spaces. Be that as it may, negative-side waterproofing cannot avoid water entering the substrate. The materials used in this type of waterproofing are epoxy shots and cementation coverings which can easily withstand hydrostatic pressure.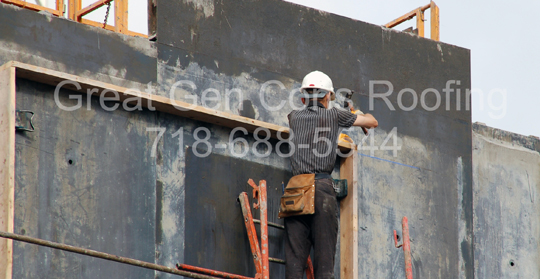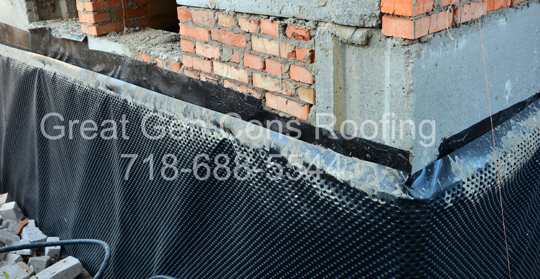 In market, crystalline or acrylic additives are easily accessible which can be applied to negative-side waterproofing, penetrating into the substrate and eventually hinder water entering in the substrate. Unlike positive-side waterproofing, this system is super easy to get repaired. You need not remove the whole surface, if any touch-ups or repair is required.
Moisture entry permitted into the substrate on negative side waterproofing systems can be considered as a benefit, because it stimulates active curing of the concrete substrate. Or it can be a drawback as it adds to the deterioration of the concrete and steel reinforcements from groundwater and chemicals.
When to use Positive-side or Negative-side Waterproofing?
The final decision to use positive-side or negative-side waterproofing should be made after giving a look-see over certain conditions. If there is exposure to corrosive soil materials, free cycling or there are some interior humidity limitations, you need to consider only positive-side waterproofing. If no, then negative waterproofing should be considered.
Why Positive-side gets over Negative-side Waterproofing?
When it comes to decide the most proficient form of waterproofing, the professional water-proofers suggest installing positive-side waterproofing for better protection of structure. The negative-side waterproofing is risky as it is unable to stop liquid or vapors to infiltrate the concrete. Waterproofing applied to the negative-side of the structure also be responsible for a passage for any ground restraints or chemicals to enter into the substrate and worsen the concrete and rust steel cavalries.
To eradicate these fears, it is possible to install a negative-side partition wall to clench the waterproofing in place. This method may prove to be expensive than digging the surface. The finest solution is to apply positive-side waterproofing on newly constructed structures and bound negative side waterproofing to curative applications.
Types of Waterproofing Materials in Bronx, Yonkers and Westchester County
There are various sorts of waterproofing materials. Remember, waterproofing contributes a lot in securing and extending the life of your house. That being the case, you need to opt right type of waterproofing, otherwise, you will fell prey to major problems in future. Bear in mind, all types of waterproofing do not serve all purposes. That's why go for the type of waterproofing materials which can rightly assist your need. The best and commonly used waterproofing materials include Cementitious Coating, PVC Membrane, Thermoplastic, Rubberized Asphalt, Bituminous Membrane, EPDM Rubber and Polyurethane.
Polyurethane
Despite the fact that there are many types of waterproofing materials available in the market, not all of them equally support the purpose. For most of the people, polyurethane is a perfect option. It provides several advantages out of which many are not available with the substitutions. So, before paying for polyurethane, it is crucial to learn about it more and more. It will not only save your money but your time as well. Probing into all nitty-gritty of polyurethane, you'll be able to get the best materials for your need. Polyurethane is going to provide all-in-one waterproofing membrane. This makes a huge difference. On top of that, this waterproofing material fills up all capillary cracks. It reduces the concrete's water penetrability. One more thing to count is that this material will strengthen the concrete's uppermost surface.
Polyurethane gets penetrated in the surface very deeply. But it's a bit tricky having some risks. Keep in mind, this material can prove to be really dangerous. Polyurethane when comes in contact with the skin, it can cause extremely bad health hazards which can last longer. Moreover, it can even effect your health badly if inhaled. So, it is suggested to let experienced and skilled professionals handle the installation process with their expertise. Or else, you'll definitely putting yourself in danger saving few bucks. Polyurethane liquid membrane can be applied at various places. For example, it can add waterproofing to balconies, pedestrian decks, bridges, water tanks, parking decks, ponds, roofs etc. It's a very flexible material that can be used for many purposes.
Polyurethane liquid membrane bids a wide variety of profits. It can help resist water without causing leaks and it is water vapor porous as well. It provides grip for the entire surface. Furthermore, polyurethane is amazing, for it resists oils, detergents, and other chemicals. It is extraordinary in this explicit class. Commonly, it is evaluated that this material lasts for 30 years or more. This makes certain that your house is protected for a long period of time.
This type of roofing material is to some extent more expensive than the others. You have to pay around $80 for a bucket. Typically, it charges up to $20 per square meter. Yet, the price may swing from area to area. At the end of the day, the material works fine for the proposed purpose but there are some hazards involved. Hence, you should be cautious when investing in this material.
Cementitious Coating
Cementitious coating is fine powder of sand, organic and inorganic chemicals, and silica-based constituents. When the vigorous ingredients are combined with lime, it causes a hydration reaction, forming a waterproof seal. Many specialists have a preference working with this type of coating because it is super easy to use.
As stated above, cementitious coating is very easy to utilize. Most brands suggest mixing the coating with a precise amount of tap water before applying. Some experts use an acrylic additive to make a more resilient and compact coating. You need to mix the cement product as instructed by the manufacturer. Then add cementitious waterproof coating and mix carefully. If you want to add acrylic, you can add after cementitious coating.
Like other type of waterproofing products, cementitious coating comes with both benefits and drawbacks. The biggest gain of the product is its stress-free application. The biggest drawback is its lack of flexibility. This is perhaps for the reason that cement doesn't have a lot of flexibility to begin with. Whereas concrete does stretch, bend and compress although minimal.
Cementitious waterproofing products are applied for a number of purposes. Experts use them to make a waterproof seal over concrete structures, such as bases, stockades, sidewalks, and footpaths. You can make use of cementitious waterproof coating for a wide-range of concrete applications. If you keep an eye on the manufacturer instructions, it will be responsible for a durable watertight seal that will last for a number of years.
This waterproofing stuff can also be utilized to treat water-absorbent structures, concrete subways, and containers, over and above water treatment amenities. Cementitious waterproof coating is available in spray and liquid formulas. It all depends upon your need to its application. If you want to apply it on small surface, then spray is perfect for you. If the designated surface area is large, then liquid formula will be perfect to cope with your need.
EPDM Rubber
In order to secure your roof, EPDM rubber is extraordinary effective material. Being a synthetic material, it can be utilized for different purposes at various situations. EPDM rubber commonly accompanies silicone, along with ethylene and propylene, the two materials are tremendously opposite. This rubber waterproofing is mainly used to provide a waterproof coating to roofs. It works prodigious for this purpose. It is also used in automobiles. In this type of environment, the EPDM rubber is used to seal windows, trunks, and even woods.
It can also be found in car heaters, oil chillers, water pumps, regulators, and other places. The material is capable of resisting water, but it can also produce noise in vehicles. The material is eco-friendly and flexible. On top of that, it is resourceful. On the low end, you're going to end up paying $3 to $5 per square meter. At the maximum, you'll need to pay almost $12 to $15 per square meter.
Rubberized Asphalt
Another material that can serve best for your waterproofing needs in Bronx is rubberized asphalt. This material is perfect to keep your home protected from the elements. However, it is largely found on roofs for commercial companies. If you're dealing with widespread vegetative associations or concentrated roofing assemblies, you'll need to go with this material. It will preclude hitches and provide you with the best outcomes. This material is at times applied to provide a waterproofing shield to RVs and campers.
There's a whole heap to like about rubberized asphalt. For example, it is very durable. It can bear up everything nature throws its way. At the same time, it is very flexible. This makes sure that you're going to get good results. The material is usually utilized to waterproof channels, malls, parking places, and commercial roofs. When used on concrete, the material can help covering cracks, noise, and sliding. It will also add to the durability of the underlying material.
Thermoplastic
One more very prevalent waterproofing material is thermoplastic. This material is at one hand expensive, but it offers a wealth of profits. For example, it is one of the stoutest waterproofing materials in the market. Generally, it can offer you more than 50 years of waterproofing endurance. This extends its total life span in contrast to many of the other options. When heated appropriately, the material will convert from solid to semi-solid. This permits a professional to seal the sheets or panels collectively. In return, this makes thermoplastic waterproofing more operational for the planned purpose.
Thermoplastic is adept to resist impact much better than some of the other materials described. Thermoplastic waterproofing can be used for numerous purposes. The material is often used for therapeutic products as well. It has the ability to keep air and liquid out, so it's great for producing storage bags for food and water.
The material can also be used for textiles and clothing. In industrial settings, TPU coating can assist to protect pavilions, flexible ducting, curtains, pipe plugs, and much more. It's also commonly used for riven slabs, property lines, elevator depths, containers, cascades, and decks. The only downside of thermoplastic is the fact that it's going to cost a little more than others on this list. It's also much harder to deal with. This is the case if you're installing thermoplastic on your roof. Thermoplastic sheets can cost as much as $40 per roll of about 50 inches.
Bituminous Membrane
When it comes to talk about the perfect waterproofing material for residential and commercial buildings, bituminous membrane is the answer. In order to create bitumen waterproofing, you need to associate it with a mixture substance of asphalt or coal-tar. The mixed substance consists of organic liquids which are adhesive by nature. Due to their formation, they can resist water and ensures long lasting endurance. Categorically, this material is used in roofs and its effectiveness elongates the life of roof. As roofs are prone to weather changes, bitumen assists roof to withstand climatic changes to some extent.
Unluckily, there are some rip-offs connected with Bituminous Membrane Waterproofing. As the material comprises crude oil, therefore, it is not reflected a defensible building product. Another thing to note is that this material does not work well in areas that are exposed to extreme temperatures. It's a fact that this material is flammable. When applying this material, it's going to discharge some vapours. Those vapours may lead to breathing problems in the future.
Although the material works fine for the proposed purpose, you should be very careful with it. In spite of everything, it can cause some health problems and it is not apposite for all areas. This type of waterproofing material isn't too posh. It can make you pay $800 to $1,000 in order to seal your whole roof using bituminous material. Be that as it may, the maximum cost per square foot is around $2 to $5. Due to its low cost, most of the people prefer to get this material for waterproofing purposes.
PVC Membrane
Last but not the least, PVC membrane can best fulfill your waterproofing needs. A typical roofing material prepared from polyvinylchloride, this material is used to waterproof the roofs. There are a lot of advantages connected with PVC waterproofing. To start with its pros, it's water resilient. It ensures to keep the water out and it's also vapor absorbent. PVC waterproofing membrane features a strengthening base. The base is generally made of glass fiber or polyester netting. Despite the fact that it is primarily used for roofs, it's also universally meant for underpasses, swimming pools, and underground constructions.
You can pick out reinforced or unreinforced membranes. Both possess similar advantages. The reinforced membranes provide you with more strength. With the other, you can have more flexibility without keeping you under the cloud of suspicion about sturdiness. One thing that sets PVC spaced out from the others is the fact that it is super easy to install, and it has a considerably lengthier life span. The only potential weakness is the fact that this material can allow moisture to discharge from the structure's roof area.
When all's said and done, there are numerous distinctive kinds of waterproofing materials around Bronx, Yonkers and Westchester County NY. Some are more proficient than others. Keeping a hawk eye on this, you should know that not all of them are equal. For that reason, you take some time out of your quotidian routine and put some energy to discover which one is going to work best for your personal project requirements.